Masterson Sta-Wet Palette
Do you ever wonder how much money you've wasted over the years because of dried-up paints? I know I have wasted more than I'd like…even though I am very conscientious about it. When I'm done for the day but still have more work to do on an acrylic painting, I would put my palette in a plastic ziploc bag and place it in the freezer or refrigerator. If I had a lot of a color left over that wasn't mixed with another color, I'd go as far as to use my finger to swipe up the color and put it back in the bottle. These methods weren't great. Many times the paint was ruined.
I have a SOLUTION for you! You just have to purchase the Masterson Sta-Wet Palette available from Dick Blick. Watch the video above to see how it works but I can tell you, it's AMAZING! Say buh-bye to wasting your acrylic paints! The money you save in paint will pay for your new Masterson Sta-Wet Palette in no time.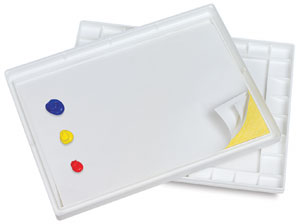 Click image and it will take you directly to the page you need if you'd like to start saving your paint today!