Arbutus Hunter
Meet Arbutus Hunter
Spun Cotton Ornament Company
Arbutus Hunter from Teresa Kogut on Vimeo.
I have been a fan of Arbutus Hunter for a year or more now. I first saw her amazing spun cotton ornaments on pinterest and fell in love immediately with her work. This past September, I met Arbutus at the Ghoultide Gathering Show in Chelsea, Michigan! Let me just tell you that the photos don't do her work justice. They are even more spectacular in person. I didn't realize how small they were! Arbutus' spun cotton ornaments have a unique look…one that she has perfected over the years.
While at the Ghoultide Gathering show, I asked Arbutus if she would be interested in doing an interview for Gather, Dream, Create Inner Circle and she graciously agreed to share her story with us. She is a delight as you will see. Enjoy!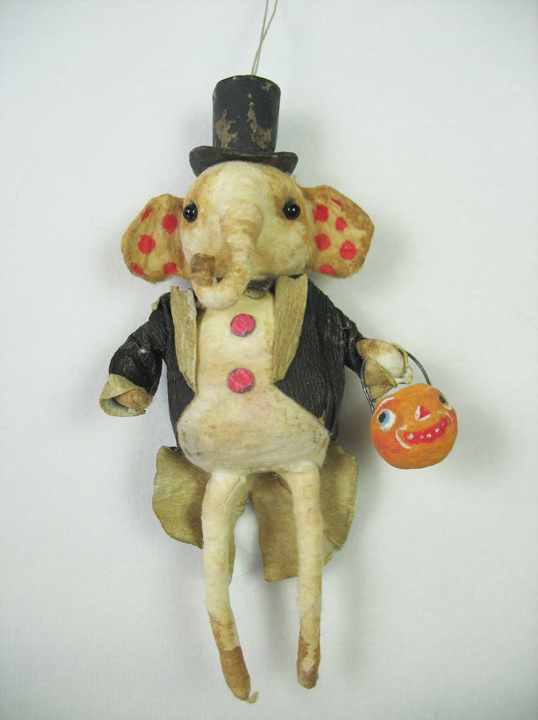 GDCIC:  Were you creative as a child? If so, did you have a family member that encouraged you or maybe that was artistic?
Arbutus: As far back as I can remember, creative endeavors were where I felt most comfortable. I remember my first day in Kindergarten was very scary until I saw tables of small pieces of scrap wood in different shapes, bottles of glue, and various embellishments to decorate with.   I still remember the excited feeling I had when my mother brought me into a craft supply store as a small child and I saw the myriad  of goods in all colors, shapes, and sizes sitting on the shelves. Oh the possibilities!
I was encouraged to develop artistically as a hobby, but I would say that I was discouraged to try to make a career out of it.  It was their view, understandably, that it would be very difficult to make a living in.
I'm happy to say that today, with the developments of the internet and the ability to buy and sell online, it is considerably easier to make money and get your artwork known.
I also have an aunt who is an excellent artist, so it must be in the genes.
GDCIC: How did you learn about spun cotton?
Arbutus: I was browsing antique Christmas decorations online and discovered spun cotton ornaments among them.  I loved the idea that they looked similar to little stuffed dolls, but they were not sewn.  I'd been wanting to make dolls, but am not an experienced sewer.  I also was attracted to the idea that they were made out of a beautiful, soft, fluffy natural fiber.
GDCIC: Did you immediately start pursuing the craft?
Arbutus: I was captivated right away and wanted to make them.  However, my desire was far ahead of my skill level.  And so I did try and try…and try to learn how to make them for five long years.  These many attempts were not anything I could sell.  I still have a giant tote full of my years of  attempts.  So during this time I was selling in other mediums such as  collage, assemblage and paper mache.
GDCIC: Did you take a class or did you teach yourself how to create spun cotton?
Arbutus: I was amazed and mystified at how these ornaments and figures were created.  It seemed impossible at the time to find any information on how to create them, so I embarked on a five year journey of trial and error until I finally developed a method which closely matched that of the antiques that I loved.  I've never taken a class.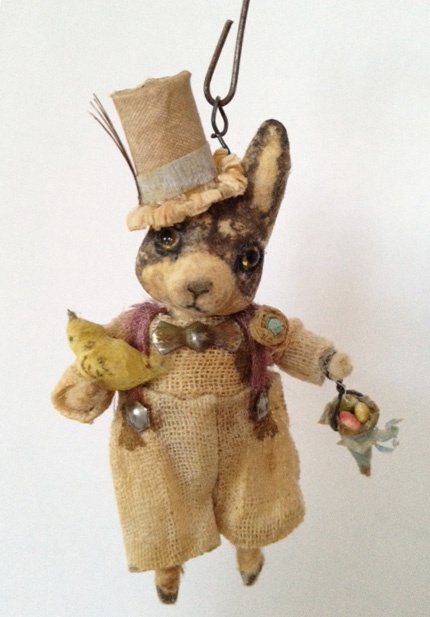 GDCIC: When did you decide to start selling your art? I see you have several outlets for selling….Etsy, Ehag, Pfatt and shows….which outlet do you find most profitable and why?
Arbutus: I've always been very shy, so never approached shops, galleries, etc. in person.  Despite being shy, I do have a strong independent spirit, so when eBay was started, I was immediately captivated by and drawn to the concept of selling online.  I especially loved the idea of being my own boss and working my own hours.
I actually started selling vintage items and clothing that I would find at garage sales, thrifts and such.  It didn't take long for me to wonder if anyone might be interested in purchasing my art.  I started listing auctions for miniature paintings.  I chose miniature size because these were more affordable to produce than larger canvases.  My first miniature painting sold for around five dollars in  2002.
I do have many outlets for selling including eBay, Etsy, my blog, my website, PFATT, EHAG and shows such as Halloween & Vine and Ghoultide Gathering. I personally have found eBay very profitable despite the substantial fees they charge.  The Shows have also been quite profitable, but there are large costs involved including traveling expenses such as car rental, hotel, restaurant, show fees etc.  Selling from my blog has also been great venue.  This can work well once you have an established following and an email list to contact them with.  It also helps to get the word out about it ahead of time by sending out a newsletter, and announcing it on Facebook, Twitter etc.
I've talked to many artists about which outlet is most profitable to them and I have found that it varies greatly.  Some artists don't sell well on eBay, but do very well on Etsy for example.  I personally sell better on eBay then Etsy.  So it's a matter of experimenting until you find what is the  best fit for you and your art.
GDCIC: Where do you find inspiration for your creations?
Arbutus: I find inspiration for my creations mostly in antique ornaments and holiday decor.  I also like to watch classic movies or listen to old music to help transport me to the days of yesteryear in my imagination.
GDCIC: Tell us about your creative process…start to finish…do you sketch first?
Arbutus: I think my process is very loose.  I don't even sketch out a design first.  I like to browse antique ornaments and decorations till I feel the spark of inspiration and receive an idea.  Then I get straight to work creating a wire armature, spinning the cotton fiber around it, painting and finishing it up with embellishments.
GDCIC: Do you have another job or do you support yourself with your art?
Arbutus: My art sales are my sole income.
GDCIC: What is your work schedule like? Do you have scheduled time every day that you work on your art? How many hours a week to you devote to your art?
Arbutus: I work almost every day of the year.  I don't have established hours because I'm just always working.  I only stop to do chores, prepare meals, eat, etc.  Other than that, I never stop.  That's because I love what I do and most of the time it doesn't feel like work to me.
GDCIC: I see you have another site, Vintage Ephemera…can you explain what that is?
Arbutus: Vintage Ephemera is a blogsite I created where I provide  free images for artists and crafters to download and use in their own artworks.  Like so many other artists, I've always been on the hunt for full resolution, printable images that were in the public domain(copyright free).  After going through so much work to find these for myself, I decided to start offering them to others for their own use.  You can find the site at vintage ephemera.blogspot.com.
GDCIC: Do you create art in any other mediums?
Arbutus: For the time being I'm focusing exclusively on spun cotton.   However, I love creating in many mediums such as needle felting, painting, paper Mache, collage, assemblage, making art lamps to name a few.
GDCIC: What one piece of advice would you give to an artist that wants to make money with their art?
Arbutus: It usually takes an artist time to start getting spotted by collectors.  It also takes time for an artist to develop his or her skill level and establish a style.  I am still working on all of these facets.  it's a good idea to be patient with yourself while you're building up a following and developing your skills.  It's truly a life long journey.
Get support by joining an artist group on eBay, Face book, etc.  Groups are a great resource for asking questions, getting suggestions, feedback, encouragement, and making connections with others who have similar goals to yours. Groups are also a great way to pool your collectors.  For example if you are a member of PFATT and list your art auctions with PFATT(with the groups permission) in your listing title, this will draw viewership from a much wider spectrum of collectors than what you would draw on your own.  In addition to that, often groups will have special event sales that you will be able to participate in and they may provide group advertising in magazines etc. that you all will benefit from.
Pay attention to the details of sales transactions.  Be prompt and polite when communication with buyers or  answering questions from potential buyers.  Ship your sold art quickly and take care when packaging.  All of these things can make the difference between a one time sale turning into a repeat sale.
GDCIC: What do you like to do in your spare time?
Arbutus: Hmmm…I don't really have spare time since I'm always working. When I do make time,  I like to study other artists books and learn new techniques.  I also like to develop myself spiritually by reading books on the subject of spirituality, meditating, journaling,  practicing affirmative and contemplative prayer, practicing mindfulness.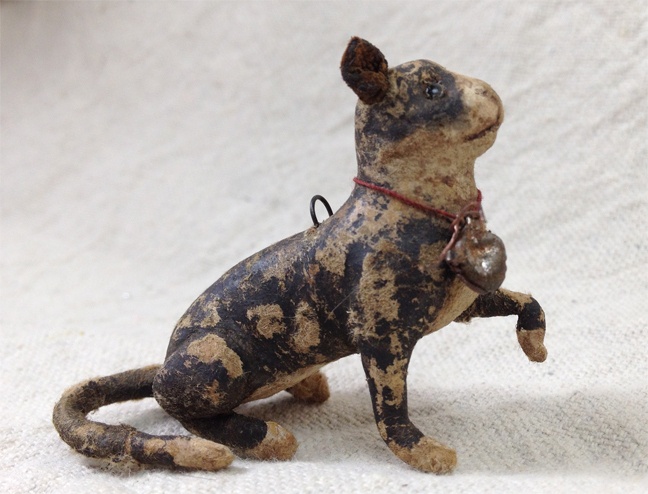 GDCIC: Have you always lived in Nevada? If not, where were you born and where did you grow up?
Arbutus: I'm actually a California native, born in Santa Monica and raised mostly in Santa Cruz.  As an adult I spread my gypsy wings and lived in Alaska, Hawaii and finally Nevada where I currently reside.
GDCIC: What is your family life like? Married? Children?
Arbutus: I have an awesome husband.  We've been together for about thirteen years and married for eight.  No kids, but we have a plethora of fur babies!
GDCIC: Do you have any pets? Share a little about them.
Arbutus: We have two dogs, a very sweet Pomeranian named Scarlett O'Hara, and a completely crazy and lovable Australian Kelpie named Juju.  We have a tuxedo cat who has one blue eye and one green named Miss Kitty, a snuggly little house bunny named Pearl, a Cockatiel named Chichi who knows how to give us "Hollywood kisses" on each cheek.  Finally Miss Kitty caught a cute little mouse in our house and I just couldn't part with him.  Next thing we knew, he had a brand new Habitrail home and little Despereaux is now the newest and smallest member of our family!
GDCIC: Tell us one thing about you that might surprise us.
Arbutus: One thing that might surprise many people about me is that I have social anxiety.  This makes it extremely difficult for me to have any social interactions with people including emailing, phone calls, and anything in person most of all.  I have struggled with this for many years now.  How do I do it when I have to constantly promote my art and put myself out there?  I just do the best I can.  Sometimes I do better that other times, but I just keep trying.
So if you have an issue, situation or a disorder like me that you think may potentially hold you back, just keep trying.  Don't give up.
GDCIC: Last  one….I just noticed you have a tutorial blog as well. Very cute ribbon by the way. Will you ever do a tutorial teaching the art of spun cotton?
Arbutus: Yes I just started another blog with the same concept as the Vintage Ephemera blog, where I will provide free tutorials for interested artists and crafters.  I have found that when I have browsed around for tutorials in the past, it's really been a hit and miss search with lot's of sifting through information to find a few nuggets of knowledge.  So I hope to connect high quality tutorials with those interested in learning and creating.
I really enjoy teaching and may offer courses in Spun Cotton sometime in the future.  For now, I'm having way  too much fun creating!
Thank you Arbutus for opening up to us. I had no idea at the time I asked her for an interview that she suffered from social anxiety. She revealed it to me after she finished all the questions and said she felt vulnerable opening herself up but she is working towards overcoming her anxiety and pushed through the interview. I am full of gratitude that she did! I hope you enjoyed learning about Arbutus and her amazing work. You can follow her work at these sites:

Below is a brief history of spun cotton ornaments.
Cotton pressed (or spun) ornaments originated from Germany, Czechoslovakia, Russia, Austria and later from Japan. Artisans created spun cotton items in many forms. Popular versions were fruit and vegetables. Other examples took on holiday forms of elves, angels, and snowmen. Additionally you may find spun cotton animals and people. The most common food items were apples, pears, oranges and turnips. More difficult items include tomatoes, cucumbers, radishes, strawberries, cherries, carrots and grapes. Some items are dusted with mica. A favorite display is a feather tree heavily laden with fruits and vegetables; your own special Sugar Plum Tree!