WordPress
How To Create a PDF File Link Within Your WordPress Site (One You Want to Give Away for FREE)
Click Page>Add New (or within an existing page)>Add Media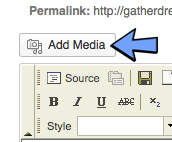 Find your PDF and upload. When it's done uploading, copy the URL in the right hand column toward the bottom (see it below, highlighted in blue).
Now "x" out of the add media window, which will bring you back to the page you are editing or creating.

Type the words "Click Here" where you want the link to be.

Highlight the text "Click Here", click the link icon and paste your PDF's URL in the box. Voila! That's it!
But DON'T FORGET to click "Update" to save the changes to your page.

______________________________________________________________
How To Sell Your Ebooks & PDF files
I use Digital Goods Store to sell all my Ebooks and PDF files. It is quick & easy. There is no membership fee and they only charge 5% of the sales of your product.
Go to www.digitalgoodsstore.com to set up your account.

You will link your paypal account to your Digital Goods Store (DGS) account via your paypal email address. When someone purchases your product, DGS will automatically put the money into your paypal account.

In your dashboard, click the drop-down menu next to "my products" and choose "+create new product".

Enter the title, price, description, and photo of product.

Click "Upload your File"

When it's done uploading, it will bring you to the Create Button page.

I choose the tab "Basic Button" and choose the button that looks most like the paypal buttons.

Click "get button code"

Highlight and copy the code.

Now go to your sales page in your WordPress site.

You should have an image of the digital product you are selling (Ebook or PDF file)

Enter the price you are charging below the image.

Now click "Source" (this takes you to the html coding for the page)

Underneath the price for the product, insert the button code from DGS

Click "update"

That's it, you have your product for sale!