Early American Home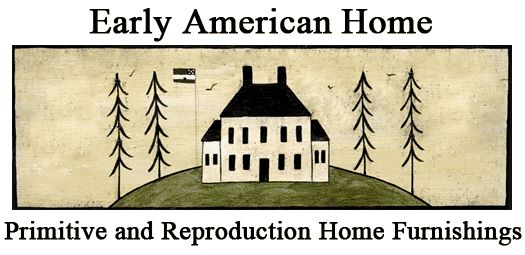 When it comes to primitive and colonial home decor, Early American Home has become a destination place for many.
Established in 2002, Early American Home is a dream come true for shopkeeper, Barb Farling. Barb has fond memories of her Grandfather taking her to flea markets and antique shops when she was a young girl which planted the seed for what now is her passion.
Barb not only has an eye for primitive decor and creating wonderful displays and vignettes in her shop but she is one smart cookie as well. Even though Barb has a business degree, she felt it necessary to have some hands on training in retail before opening her shop so she worked for two years at one of the largest retailers in the nation. She likened it to being a sponge and absorbing all she could about the ins and outs of running a retail store in order to make her business a success.
The area surrounding the shop use to be acres and acres of farmland. The farmer had three children and built each of them a home on the property. The homes were built in 1850 with all the rustic charm of homes built in that era; cobblestone and wood beam basement, wood siding, big country porch, hard wood floors and wood moulding throughout. A perfect setting for a primitive shop.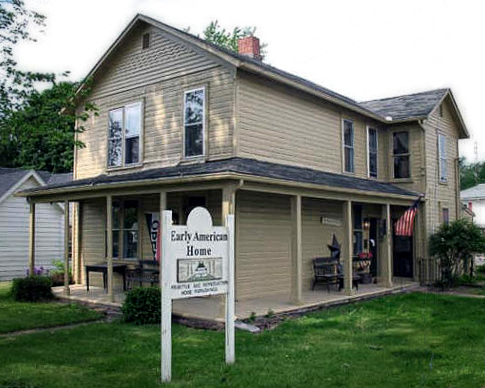 When Barb purchased the house she admits the only change she needed to make in order to create the look she desired was taking up the carpet to reveal the beautiful hard wood floors and paint….lots of paint.
Barb strives to find unique wares in order to keep her customers coming back for more. She has found some success working with local artists that create a specific item only to be sold in her shop. Barb herself also makes handmade items to sell, such as, punchneedle and hooked rugs.
Recently, Barb has ventured out to spread the word about Early American Home by vending at some of Ohio's best antique and primitive shows. Her displays reflects the feel of her shop as if she took a room out of the house and brought it with her still intact.
Over the past 12 years, Barb has met many wonderful people. Her favorite part of running Early American Home is the people she's met and the friendships she's formed.   It is obvious when you walk through the door that Barb loves what she does. Her warm smile and friendly greeting makes one feel right at home.
Barb hosts some special events throughout the year for her customers including her very own primitive/antique show on the grounds of Early American Home appropriately named Peddlers on the Farmstead, which is always held the first Saturday in October. She also has two big open houses to start the season out right. One is her fall open house, Bittersweet Harvest, held the first weekend of September and her Christmas open house, Christmas on the Farmstead, the first weekend of November.
So if you're ever traveling near Findlay Ohio, make sure to stop in and say hello to Barb and enjoy her wonderfully primitive Early American Home.
Be sure to check out her website here and stay connected via Facebook here.