Jane Filer
Jane Filer
Painting The Universe That's Inside Her Head
I am thrilled to introduce to you, Jane Filer.
Jane Filer grew up in San Jose, California and began to paint with intense dedication in kindergarten. At age eleven, the family moved to Western Australia where Jane first became acquainted with the ethereal artwork of the aboriginal people. The mystical nature of this culture made for a lasting impression.
After high school, encouraged by her godmother, Jane moved to Chicago and began her formal art education. Later Jane attended Southern Illinois University where she received a Bachelors of Fine Art degree with honors and the Rickert-Ziebold Trust Award, the highest award in the country given to graduating seniors.
Jane married John Filer and moved to North Carolina where she received her MFA at UNC, Chapel Hill. Presently Jane Filer lives and works in her hand built home. This environment maintains the creative fire for her inspiration.
Jane has a devout following of art collectors and friends who attend her solo exhibitions. Many of her shows include "Happenings", a modern primal-drum dance of characters from her paintings coming to life and roaming the gallery.
In 2006, after teaching painting and drawing for 21 years at The ArtsCenter in Carrboro, NC the classroom was officially named, "The Jane Filer Painting Studio" in her honor.
Jane's work has been included in numerous prestigious collections in international, corporate and private sectors. Included among these are the American Embassies in Talin, Estonia and Kampala, Uganda, IBM, Momentum Research, The University of North Carolina, Duke Hospital, UNC Memorial Hospital, and Southern Illinois University Museum. Prominent collectors are Kevin Klose, President Emeritus, National Public Radio, and Eileen Naughton, Google New York – Media Sales Director.
In 2010 Jane painted a 45 foot mural for RDU International Airport. The Triangle Area Sister Cities sponsored the commission, and the theme is 'World Peace: One Friendship and One Community at a time'.

Jane's method of creating art is refreshing, intriguing and exciting. I love how she immerses herself in the creative process and let's the painting "come alive" before her. There's no plan, no sketching first, no agenda and no end result in mind. She simply let's the painting evolve.
When I asked for permission to write this post about her and her art, I told her I want to be like her when I grow up! She has found great success selling her art to collectors through gallery exhibitions. In fact, she supports her family with her exquisite creations….every artist's dream.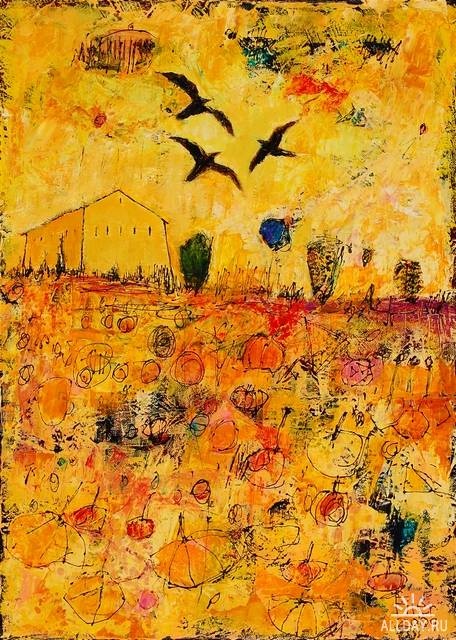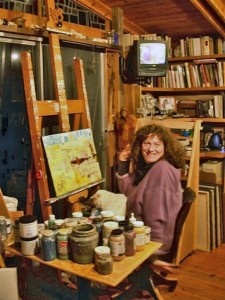 Watch this video and step into the creative mind of this wonderfully talented artist.
To learn more about Jane, visit her website. Thank you, Jane Filer, for sharing your gift with the world.
If you enjoyed learning about Jane and her art, join the Gather, Dream, Create Inner Circle to learn about more artists. Check it out here.