How to Get Started in Art Licensing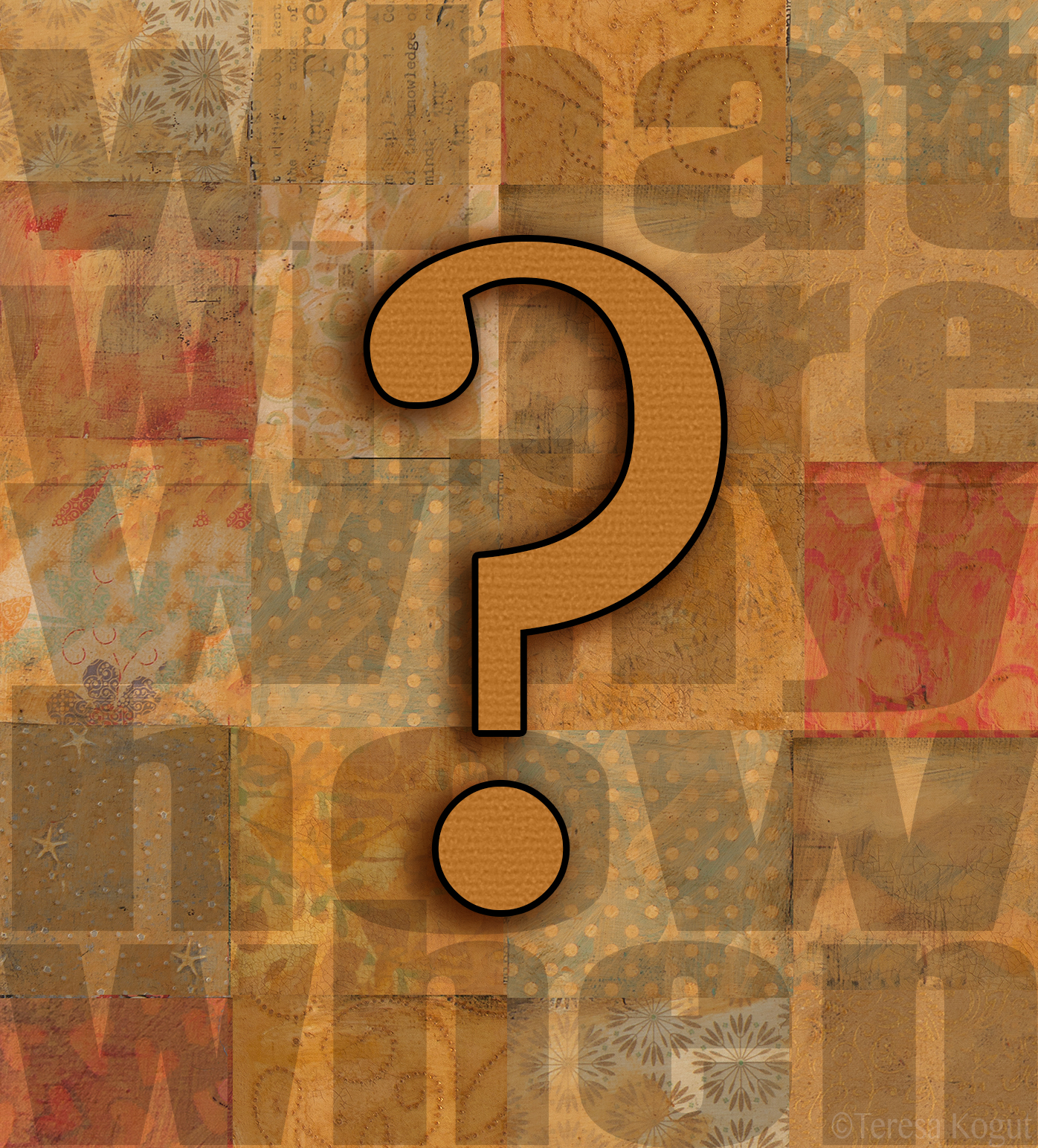 How to Get Started in Licensing (part 1)
Once you have decided licensing is right for you, you may be wondering where to start. There are some important steps to take before you begin to pitch your art to either an art agency or manufacturers.
The first thing to consider is whether you want an art licensing agent to represent your art to manufacturers or if you want to self represent and work directly with manufacturers. After you have made that decision, the following steps will help you become ready to present yourself to either an agent or manufacturer.
Learn as much as you can about the art licensing business. Read trade magazines Total Licensing, Art & Design Licensing, and Art Buyer. Join art licensing social media groups and don't be afraid to ask questions. Visit the Surtex site and read the articles and news. Sign up for there e-newsletter "On the Surface". Surtex is the licensing show for artists, agents and manufacturers.
Create a logo using your name. This is an important part of branding. When someone sees your logo you want them to think of you and your art. Keep it simple and clean. Too much detail won't translate well when it is printed small on products or tags. Also make sure it's not too trendy because it needs to transcend time. Also, your logo should reflect the style of art you create. Spend some time online looking at artist's logos if you are struggling to come up with an idea. Here art a few examples:
Order business cards. Make sure you use your logo when designing your card. I get my cards through Moo. They are more expensive, but you can have an image of your art on one side and all your contact information on the other side. When someone leaves with my card, I know they won't get back home or the office and think "what did she do?". Below is what my card looks like.
Make a marketing and licensing plan. Lay out a plan (or goals) so you can evaluate your progress year to year. You need to know where you are going in order to get there.
Work on creating your collections. The more you have to offer, the more interest you will attract from manufacturers and the more you will be taken seriously.
Create a blog. Your blog needs to reflect who you are and have your beautiful art as the focus. I have had a couple of sites built for me in the past but the downfall was that I couldn't make changes and updates myself, I had to ask my site designer. This caused me much frustration (mostly because I am impatient). Also, you want a blog, not a website. A website is static…the homepage doesn't change. A blog's home page is where you write articles. This keeps your blog current and relevant. See my TV Episode "Simple SEO Tip For Your Blog" for a better understanding. My current blog was my own creation. I can make changes at any moment and maintaining it is simple. I am in the process of writing a step by step instruction e-book on how to build your own blog for the best SEO possible.
Get your sales presentation in order. When you send out a presentation package to either a manufacturer or agent, you will need a cover letter on your own letterhead (create your letterhead in photoshop or your desktop publishing program and save as a template to make sending letters quick and easy), product mockups (if you are pitching to a company that makes stationery use photoshop to create mock ups of cards, envelopes, letterhead, stickers, and notepads with your art), print outs of your art and your business card.
Get a list together of the top manufacturers or agents you'd like to work with and send out your presentation packages. When sending your art to a manufacturer, find out the name of the licensing manager or art director and address your package to them. Use priority mail or fed ex so you can track it and know it was delivered. Wait a week and do follow-up phone calls.
You never get another chance to make a first impression, so be prepared and be professional but most importantly get started!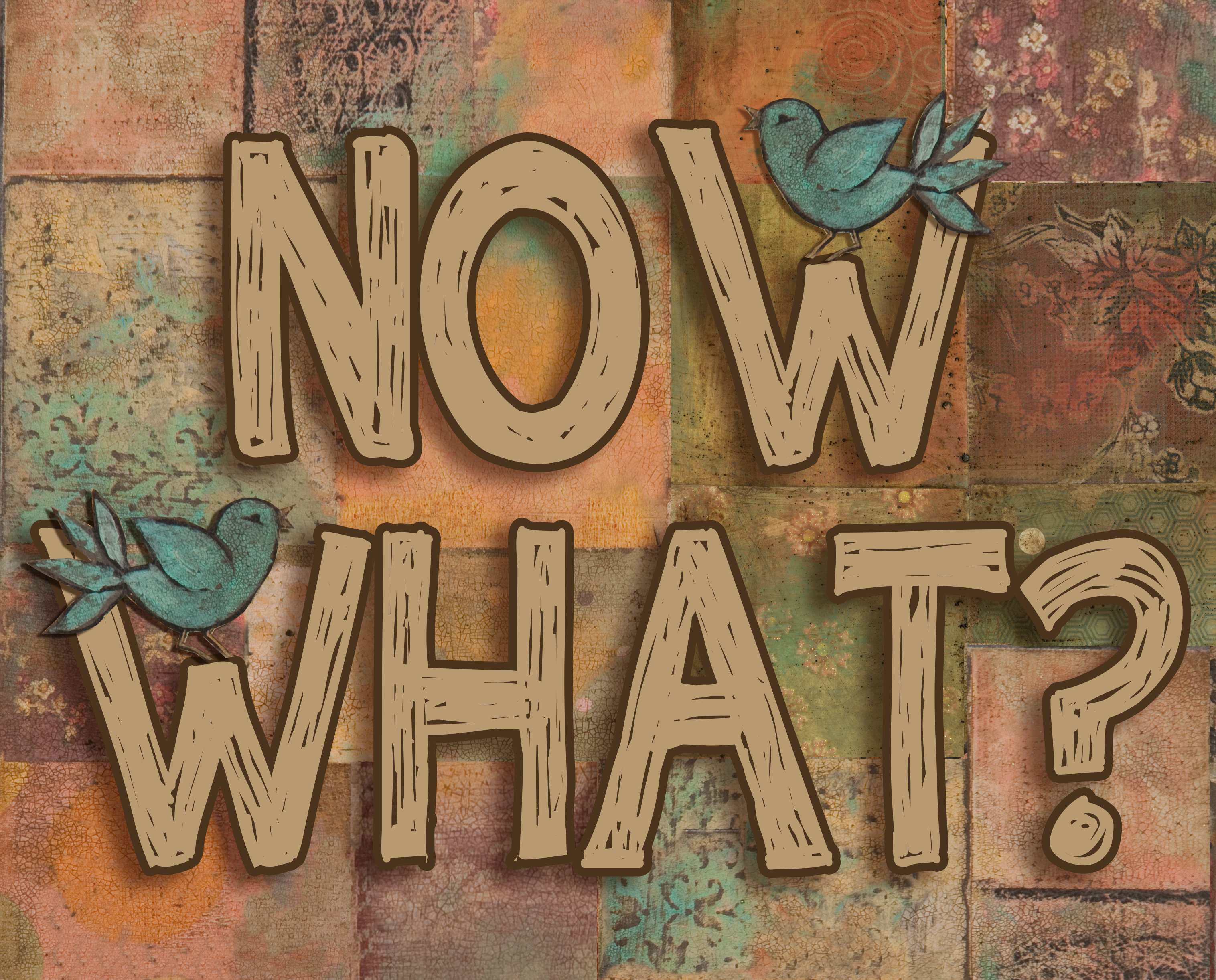 How to Get Started in Licensing part 2
If you are planning to self-represent, you may be asking yourself, "how do I go about finding manufacturers and how will I know if they are a good fit? (By the way, if you are planning to work with an art agency, one of their obligations is to connect you with manufacturers that are a good fit so you can focus on creating art)
You can find manufacturers in four different ways.
I suggest you pick only a few product categories to focus on in the beginning. Product categories span from gift bags, stationery, gift books, calendars, fabric, to figurines, wall decor, ceramic tabletop and on and on. Don't overwhelm yourself, pick the categories that best suit your art for starters.
When researching a manufacturer, take a good look at their existing product lines.

First of all, do they license art? Some manufacturers have an art department with in-house artists/designers so they don't need to license art. The manufacturers that do license art can be spotted because they will have the artist's name/logo by the product or their website may have the products listed by artist. Here are a couple of examples you might find.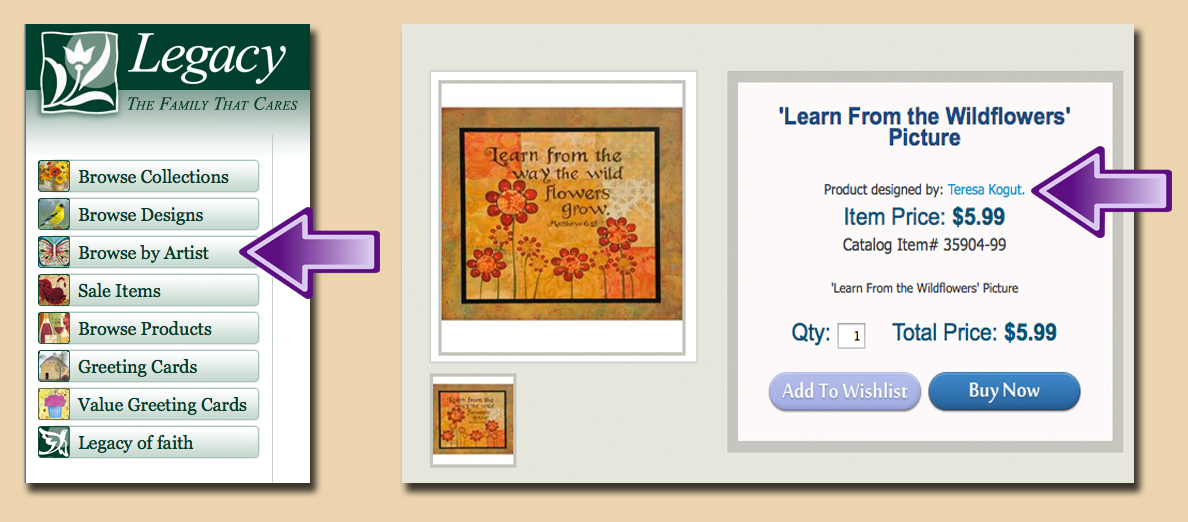 Do they license my style of art? For example, if you create children's art, you wouldn't want to spend your time and energy approaching a manufacturer that features mostly floral art. If your style is a good fit, then ask yourself, "is my art a good compliment to their existing lines by offering a new twist on a current theme?" Keep in mind a manufacturer (hopefully) will not license art that is in direct competition with one of their successful existing artists.
Sending presentation packages.
In part 1 of this article, I offered information on how to send presentation packages. This is the most effective way to approach a manufacturer that you are sure is a good fit with your art. This can get expensive if you are sending this kind of package out to every manufacturer you are interested in. A more cost effective and yet still a very viable way to approach a manufacturer is to send them email pdf presentations along with a link to your website or online portfolio. If you do not have a website, you need to make it a priority. It is a really good idea to have a password protected area within your site that displays all of your available images. Manufacturers don't have time to wander around your site looking for art; make it easy for them. Also, by having it password protected, you won't be vulnerable to copyright infringers.  Important: while researching a manufacturer, check to see if they offer guidelines for submitting art. If so, be sure to follow them exactly.
All manufacturers work with digital files. If you create your art using photoshop or another digital program, make sure you save your files in layers. Often times a manufacturer needs to manipulate your art to fit their product specifications and layered files saves a lot of time.
If you create with brush and palette you will need to either have your art scanned or professionally photographed. Have the files saved as rgb .tif files at 300 dpi. Manufacturers need high res files and this is the standard. My files are 25mb to 80mb depending on the size of the original art.
Will they even take the time to look at a new artist's work?
If you are concerned that manufacturers are only looking for established artists, don't be. Of course, having a successful track record will work in your favor but it isn't a requirement. I would say the best way to complete with established artists is to be professional, be prepared and be a sponge when it comes to learning about the industry.
Manufacturers are always looking for new a fresh art whether it is from an established artist or a new artist. Also, they are not only looking at the art, in some cases they are looking for an artist that is willing to work with them in designing products. They want your creative touch and artistic eye when developing a line.
Once you get started, never lose sight of the importance of creating new art.
Most manufacturers introduce new products every six months. As soon as they launch their product lines in January, they immediately turn their focus to products for the summer introduction. They need to know you will have new art to consider.  Manufacturers need to see new, fresh, art from the heart throughout the year.
In closing, art licensing can be a lucrative, exciting and fun business, however, it is also very competitive and takes a talented, self-motivated, disciplined artist to make it a successful career. The more art you have in your portfolio when you first start will increase your chances for success and can determine how high you will soar! So get creating!
Cheering you on and wishing you the best!